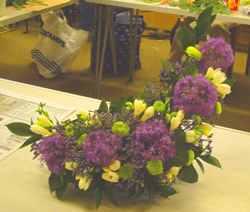 真代さんの作品は、大きなアリウムをメインとして使いながら、落ち着いた表情を見せています。
Masayo's work is a sophisticated one. Even though it has loud Allium, its overall impression is a quiet one.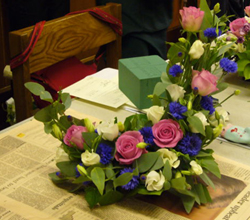 次は、恵さんの作品。青の矢車草を取り入れ、色によっても立体感を高めています。
Megumi has succeeded in enhancing its visual depth in this design by having some Centaurea cyanus (Cornflowers).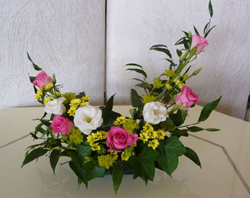 こちらは、恵子さんの作品。伸びやかに立ち上がったらラインが美しい作品です。
This is from Keiko. Its graceful line supports well on this airy arrangement, and it looks so stable!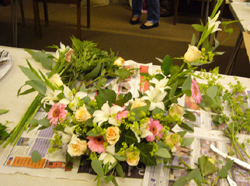 和美さんの作品では、白のミニグラジオラスの形を生かし、美しい三日月を作り上げています。
Kazumi has created this smooth Crescent with white Gladiolus colvillei. Very good choice of materials.