自分の好きな花で作る花束。自分で作るから、納得ですよね。
A hand-tied bouquet with the flowers you choose: it really is a bouquet designed by you. They are personal and beautiful.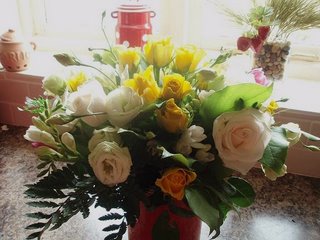 こちらは由未さんの花束です。美しく弧を描いたプロファイルがいいですよね。
This is Yumi's bouquet. Its profile is nicely created; the design really smiles at you!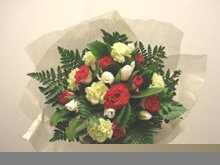 純子さんの花束です。花材それぞれが、とても丁寧に配分され、うまくまとめられた作品です。
Junko has created this well balanced design.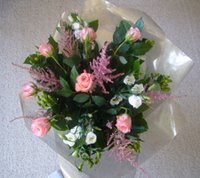 こちら恵子さんの作品です。とてもフェミニンな作品に仕上がっていますね。でも甘過ぎないところが絶妙ではないでしょうか?
This is Keiko's bouquet. It is very feminine design, yet, I like the fact that it is not too sweet!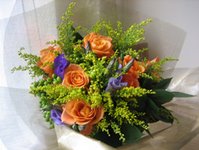 美紀さんの花束は,春の力強さであふれています。
This bouquet is from Miki. It is packed with the bright light of Spring sunshine! What a happy hand-tied!