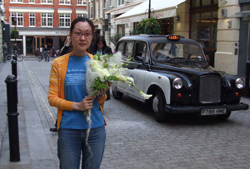 先日体験クラスに参加頂いた典子さんの作品です。白を基調とした、素敵な春先のウェディングブーケが完成しました。
Here is a couple of Noriko's work, who joined the trial class the other day. The first picture is a Wedding Bouquet Noriko made. Itis a beautiful white bouquet. Can you feel the early Spring air from London?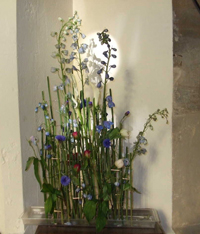 この作品は教会の中で作製されたものです。時間はかかりましたが,その甲斐あり!
The nextwork is an arrangement designed in a church envoronment. Yes, it did take Noriko a while to complete this design, but, as you can see, it was worth it!