花をアレンジするとき吸水性スポンジをよく使用しますが、日常ではよりシンプルな活け方で。。。というわけで花瓶へのアレンジメントも取り上げています。もちろん、吸水性フォームやワイヤー・テープ等は使用していません。
The use of water retaining foam is quite common when flower arrangement is made, however, sometimes you do notfeel like using it for various reason. Maybe you would like to make a very simple arrangement without the foam. Hence, we are making Vasearrangements in the Classes. Of course, no foam, no wire inside, and no cellotape on the mouth of the vase!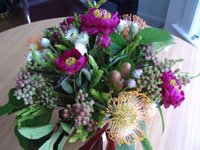 ブルームスブリーの教室からはまず智子さんの作品。ピオニーとピンクッションという個性的な花の合わせ方が目を引きます。
Here are some fine works from Bloomsbury Class. Tomoko's work is quite different and still attractive, as its rather unique combination of Paeonia and Leucospermum cordifolium.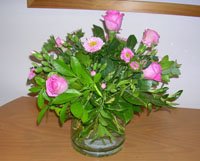 イーサは、彼女らしくグリーンをたっぷりと使ったフレッシュな作品。
This design is from Ethaar. Using plenty of foliage and greenery, Etheer created this very fresh-feeling arrangement. Although it is rather unususal for her to choose pink colour, it works!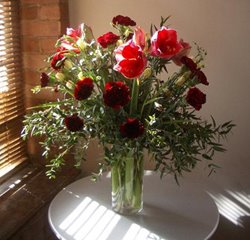 恵さんの作品では、華やかなアマリリスをユーカリがしっかりと支えています。
Those glorious Amarylis (Hippeastrum) are surrounded and supported by graceful Eucalyptus in this elegant Megumi's work.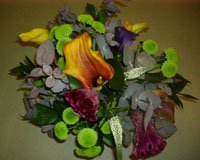 真ん中に据えられたカラーが映えるような、シブい色の合わせで魅せているのが、和子さんの作品です。
Kazuko has chosen very earthy and quiet colour combination in order to show off the beauty of Calla (Zantedeschia) in the middle of her design.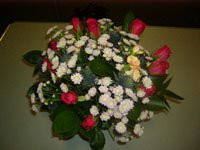 マリエさんは、花材一本一本を丁寧に生けられて,見事な形にまとめあげられています。
Marie has created this beautifully shaped vase arrangement by paying attention to each material.