ベーシッククラスの最後に作るのが,このクレッセント・アレンジメント。形を整え,且つバランスがしっかり取れるように作るのは結構難しいのです。
Crescent arrangements - this is the last design to make on the Basic Classes. It is quite difficult to make a nice shape and being stable at the same time.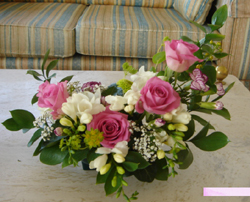 ハムステッドの教室から知子さんの作品です。花に高低差があり,花の表情がよく見えますね。
This is from Tomoko at Hampstead Class. Each material has different height in this design, so that you can appreciate its wholesome beauty.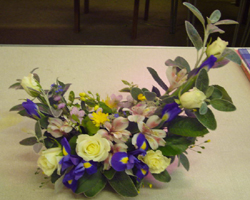 智美さんの作品は、春の優しい色合い。野草をうまく取り入れ、見る人の目を飽きさせません。
Tomomi has made this design with very gentle colour, just like Spring mist. It makes you feel like finding all the wild grasses within.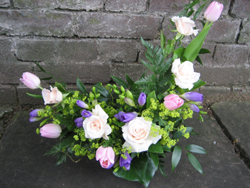 こちらは美紀さんの作品。透明感のある色合わせですね。アレンジが輝いて見えませんか?
This is Miki's work. Its clear colour scheme really shines through. It is bright, and very feminine.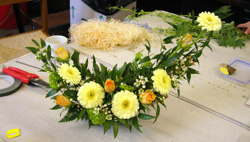 美幸さんのクレッセントは、ちょっと難しいガーベラを使って。ガーベラ1輪1輪の表情が素敵ですね。
Miyuki's crescent is created with some mini Gerberas. Miyuki has carefully arranged each stem, so they look as if they are talking in this design.