今回のアレンジは、スパイラル・スタイル。作品の中に渦巻くラインを持ち込み、植物の持つ動き,躍動感を全面に表現できるスタイルです。
The theme for this session was 'Spiral'. We made some fine arrangements creating some swirling circles within the designs so that the movement and dynamism of the material are shining through.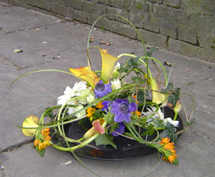 ハムステッド教室のアドバンスクラスからは朋子さんの作品です。球根系の花を丁寧に矯め、流れるようなラインを作り出していますね。
From Hampstead Advanced Class, this is Tomoko's work. Various bulb flowers were carefully manipulated to create these graceful lines.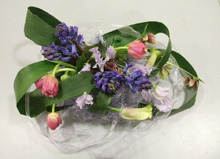 ブルームスブリー教室のアドバンスクラスから、裕季子さんの作品です。ハランとチューリップを交差させる事で立体感を一層高めています。
From Bloomsbury Advanced Class, this is Yukiko's design. The crossing stems of Tulipa and Aspidistra elatior enhanced the beauty of this design.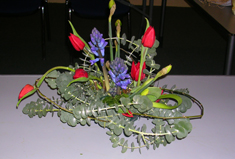 同じくブルームスブリーからイサーの作品です。ユーカリで作り上げたラインは、今にも動き出しそうに見えませんか?
Ethaar created this very organic style arrangement. Those swirling lines created with Eucalyptus look like as if they were slowly moving.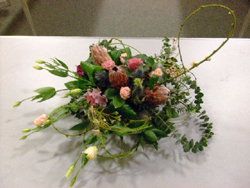 邦子さんの作品は、落ち着いた色合いながら、花材の持つ躍動感を充分に活かした作品です。
Kuniko's design has a quite muted colour scheme, yet, she carefully arranged each material for the right position so that the design showed more dynamism.