昨年もご好評をいただきましたクリスマス特別教室を、今年も開催させていただきます。
イギリスで過ごすクリスマスを,手作りのリースやキャンドルアレンジメントで彩ってみませんか?フレッシュな素材で、クリスマスの雰囲気もいっそう高まりますよ。もちろん贈り物にも最適です。花の経験は全くなくても大丈夫です。あなたもこの機会に是非参加してみませんか?
手作りクリスマスリース  11月30日(金)、12月7日(金)、8日(土)
キャンドルアレンジメント 12月14日(金)、15日(土)
テーブルアレンジメント  12月20日(木)、22日(土)
講習はいずれも朝の10時から,ハムステッドのクライストチャーチ教会にて。
講習代はクリスマスリースが65ポンド、キャンドルアレンジが55ポンド、テーブルアレンジが60ポンドです。
材料費は全て含まれています。
昨年の講習に参加された方の作品です。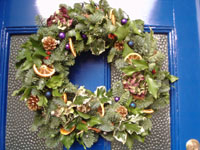 こちらは朋子さんの作品です。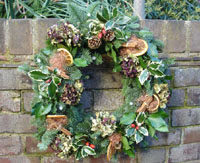 そして次は恵さんの作品です。
ご予約はお早めにどうぞ。
We are back again! Special Christmas Workshops for 2007 are now confirmed and now bookings are taken, but the seats are limited. Early reservation is recommended to avoid disappointment.
You do not need to worry if you have no any previous experience of making flower arrangement. We will make a Christmas wreath from a scratch, a candle arrangement with fresh material and a table arrangement for Christmas dinner table.
Date
Hand-made Christmas Wreath - 30th November, 7th or 8th December (£65 per person)
Candle Arrangement - 14th or 15th December (£55 per person)
Table Arrangement - 20th or 22nd December (£60 per person)
The fee includes all the material for the work.
The class starts from 10:00 at Christchurch Hampstead.
The class fee is £65 per person for Wreath class, £55 per person for Candle Arrangement, and £60 per person for Table Arrangement. The fee includes all the material for the workshop.
The seats are limited, so please book early to avoid any disappointment.