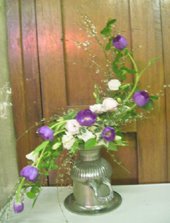 ハムステッドの教室から、智美さんの作品をご紹介します。チューリップを使ってフレッシュな作品に仕上がっています。This is Tomomi's arrangement from Hampstead class. With some beautiful Tulipas, the design looks so fresh.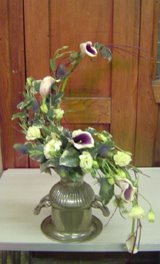 こちらは朋子さんの作品です。カラーの動きがあやしく、且つクラシックな印象も持っています。This design is from Tomoko. The use of Zantedeschia adds extra interest to this design, yet it still maintain classical style well.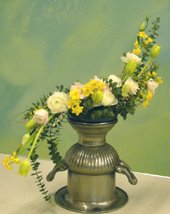 この作品は恵子さんによるものです。暖かみのある色調が見る人の心を和ませます。This is from Keiko. The design has a warm colour scheme, which will melt your soul.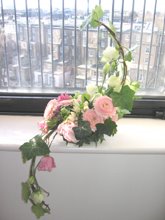 聡子さんの作品は、少しクールな印象。グルーピングによって、作品が展開されています。Satoko's design has rather cool look. This arrangement is created with a grouping style.