ロンドンの花屋さんで手に入る花束と言えば、比較的丸くて中身がぎっちりと詰まったポージースタイルが主流です。それとは少し違うスタイルを、、、という事で、今回は横に広がる花束をクラスの皆さんと一緒に作製しました。
In general, it is a posy-style bouquet which is packed with foliage and flowers in a dome-shaped when you order a 'Hand-Tied" at London florists. Then, can we have slightly different style?...so, here we are! We made some beautiful flat-style Hand-Tied arrangements in the class together.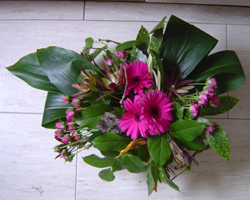 まずはハムステッドの教室から,朋子さんの作品のご紹介です。ハランの表面と鮮やかなピンクのガーベラとの対比が見る人の目を引きつけますね。
The first design is from Tomoko at Hampstead Class. What strikes your eyes is the sleek contrast of smooth Aspidistra elatior and Gerbera grootbloemig 'Serena'. A very attractive design.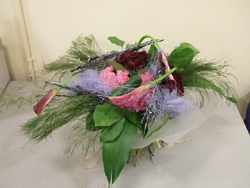 次はブルームスブリーの教室から,裕季子さんの作品です。葉ものや草,花の茎の流れがとても美しい作品です。
The next design is from Yukiko at Bloomsbury Class. The line of flowers, stems, foliage and grass are beautifully enhanced by keeping good space between in this soft design.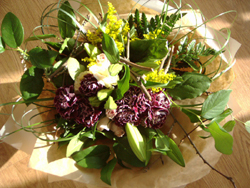 同じくブルームスブリーから智子さんの作品です。様々な材料を取り入れながら、立体感のある軽やかな花束が完成しました。
Tomoko is also from Bloomsbury Class. Tomoko has brought various material into the design, however, it still kept light and airy feling in this well constructed design.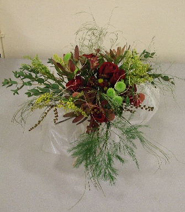 邦子さんの作品は,夏草を丁寧に編み込んで作られたかのような、風情が漂う花束です。
Kuniko has made this arrangement at Bloomsbury class. Even though there are very little flower material in this design, it is still very attractive, just like a carewfully weaven craft with various summer grass.