パラレルシェイプのヴァーティカル・スタイルを作りました。
The theme was Parallel Arrangements in Vertical style. Here are some designs from our Hampstead Class.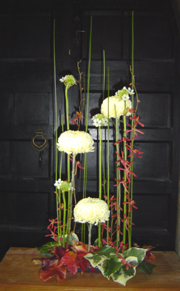 こちらは朋子さんの作品です。メリハリの利いた,存在感が大きな作品ですね。葉を落としたキクは、此れまでにはない表情を見せています。
This is from Y.Tomoko. The design has good balance and visual contrast with materials. Dendranthemas are showing another side of its character here with their stripped stems.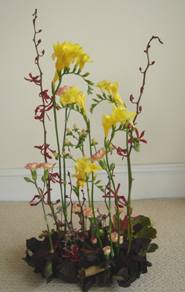 知子さんの作品では、フリージアの動きが活かされています。しっかりと花が開き、とても華やかですね。
S. Tomoko has created this blooming design. Freesias are showing its beautiful lines and movement here.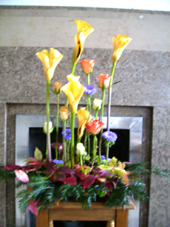 こちらは智美さんの作品です。くすみのない明るい色合わせが,ロンドンに染みついた寒さを和らげてくれるようです。
This is Tomomi's design. Its clear colour combination helps to sften the bitter winter weather here in London. Its sence of space in the design is great, too.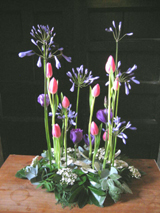 桂子さんは、チューリップを使いながら,大人っぽい景色をアレンジされました。花火のように咲くアガパンサスが印象的です。
H. Keiko created this not-too-sweet design with pink Tulipas. Yes, Tulipa can be rather seductive. Blue Agapanthus are blooming as if they were fire works in the design.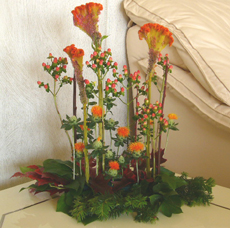 オレンジ色をテーマに使われているのは恵子さんの作品です。花材のテクスチャーが面白く、見る人に温かさを運んでくれます。
K. Keiko used Orange as its themed colour here. Its combination of interesting visual texture gives visual warmth to the viewers.