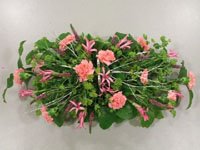 夜の教室から,テーブルセンターの作品をご紹介します。裕季子さんの作品は,アンティークショップで見つけた銀の食器を使っての作品。ピンクのネリネが効果的ですね。
From Bloomsbury Classes, we have some Table centre pieces here. Yukiko's work was made on an antique silverware. Pink Nerine were used effectively within this design.

邦子さんの作品は、穏やかなオレンジが形良くアレンジされています。
This piece is from Kuniko. It has a lovely shape and profile, with very gentle, not loud at all, orange colour scheme.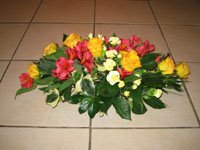 花の流れに動きを作りだした容子さんの作品は、見る人の目を引きつけます。
Yoko has created this very attractive design. It has distinctive movement within, using clever colour scheme and controling the direction of each materials.