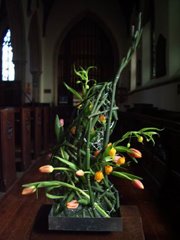 以前のワークショップから、よしこさんの作品をお届けします。最初の作品は,チューリップの茎の流れを活かした春らしい作品です。Here are some designs created by Yoshiko at The Workshop. The first design is a very elegant Spring arrangement. Yoshiko really looked into the shape of Tulips in this arrangement.
この日よしこさんは、2作品を作り出してくださいました。こちらは、スノードロップをあしらった冬の静けさが伝わってくる作品ですね。
On this woorkshop, Yoshiko has created 2 designs on one day. this is her second design. With pretty Snowdrops (Galanthus elwesii), it is a very quet Winter landscape.