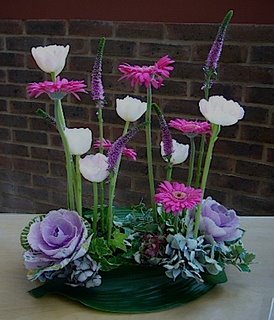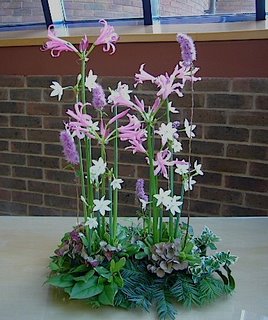 恵子さんによる作品をご紹介します。ガーベラやチューリップなど、天に向かって素直に伸び上がる花材での作成。足下へあしらわれたハランの使い方も、見所の一つですね。
This is Keiko's arrangement. The flowers used here had beautiful stem line, shooting out from the ground and trying to reach the sky... It is another point to take note what a clever way of using Aspidistra at the base of the design.
こちらも恵子さんによるアレンジ。前作とは趣を変え、細かく弾けるように咲く花々を使っての作品です。それぞれの花材に与えられた空間ですが、単調にならないように気を配って作られているのが分かりますね。ベース部分の構成も含めて、とても見応えのある作品になっています。
This is also from Keiko. Even though the design style was the same as the previous one, Keiko created a design with completely different feel to it. With rather small blooms, each material was given good negative space - and it was not monotonous at all. It really is a beautiful design.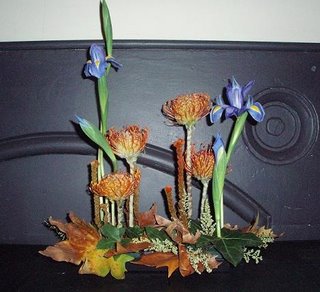 こちらは由未さんの作品。立ち姿の美しいアイリス。その美しさを遺憾なく発揮出来るのも、このアレンジスタイルの魅力ではないでしょうか?使われた花の数はそれほど多くないのですが、空間構成に隙はありませんね。
Yumi has created this design. Iris has such a beautiful profile, with its curving stem... This design style can really enhance this side of beauty in flowers, I think. And, of course, Yumi has done it so rightly. Not that many flowers being used, but there was no sense of lacking anything here.
This design was created by Mayo, who chose these material to enhance the design concept: it is different from the previous 3 arrangements. This one is, as you can see, a HORIZONTAL style. Orange Gerberas in this design brought good visual impact to this design.