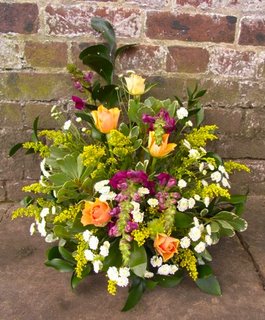 こちらは百合さんの作品です。まるで、太陽のような強い輝きを感じますよね。葉ものを様々に組み合わせる事で、アレンジにいっそう動きが出ています。
This is Yuri's arrangement.
Look at the variety of foliage in this design! They created beautiful movement in the design - it is like a Sun blasting out bright light.
Such an eye-catching arrangement.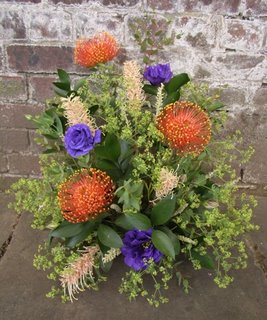 こちらも百合さんによる作品です。とても個性的な花の組み合わせではないでしょうか?テクスチャーの面白さに、見る人の目が注がれます。
This is also Yuri's design. It has very interesting combination of materials and unique STYLE with mixing them, which really attracts anyone's attention to this design. What do you think?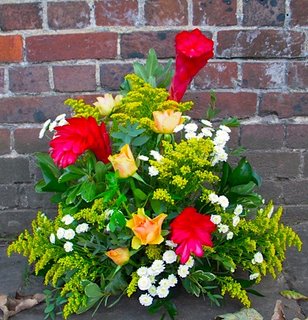 こちらは岸子さんによるデザインです。ジンジャーの花の持っている表情が活かされたアレンジですね。植物の持つ力強さ、そして伸び上がる命を、感じさせてくれませんか?
Kishiko has created this design. Ginger has such an intriguing facial expression, and Kishiko has captured them really well here. Can you feel the strength each material holds within? And, can you see the power of growing up from this design?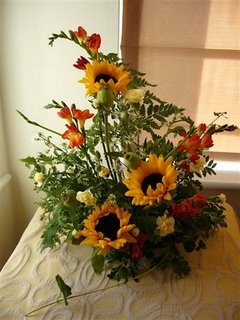 こちらは美穂さんによる作品です。夏の一日を癒してくれるような、優しさが伝わってくるアレンジメントですね。いつもとはちょっと違う、ちょっと優しげなひまわりの表情が素敵です。
This is Miho's arrangement. After a long hot Summer day, you would be so happy to see this design waiting for you at home... as if giving a fresh cool shower to your exhausted soul. Miho has shown another side of those Helianthus (Sunflowers) - gentle and light.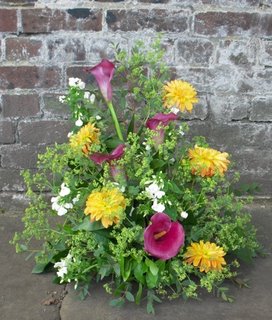 岸子さんによるアレンジです。色の対比が美しく、見る人の目を引きつけてくれます。夏の風を運んでくるような、いまの季節にぴったりの作品です。
Kishiko has created this airy design. It demands attention to be seen in a gentle manner with its beautiful colour contrast. Isn't it a perfect arrangement for the season - it almost makes you feel a nice breexe from afar field.
This is Yumi's arrangement. We all know about Growth Point when you make arrangements. You can almost pin-point it in this design. Each material has spread its line beautifully here, yet, the whole design looks so visually stable.