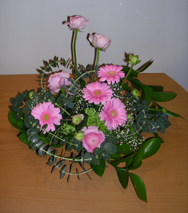 ブルームスべリー教室からイサーの作品をご紹介します。ユーカリの葉で作り上げたスパイラルは、今にも動き出しそうです。守られるように咲いているのがピンクのガーベラとラナンキュラスが愛らしいですね。
This is a lovely piece of work from Ethaar in Bloomsbury Class. The spiral in this arrangement is created with Eucalyptus, and it looked as if it started moving. Pink Gerberas and Ranunculus showed their charm really well.
ハムステッドの教室から恵さん,智美さん、そして恵子さんの作品をご紹介します。恵さんの作品は、チューリップとフリージアの動きを絶妙にとらえた春らしい作品。躍動感に溢れています。
Here are 3 different works from Hampstead Class: This is created by Megumi. The work was filled with a sense of Spring, with beautiful movement of Tulipa and Freesia. You can almost hear the heart of nature beating here.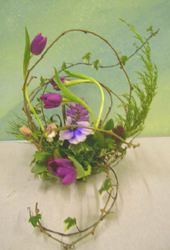 森の中で見つけた陽だまりのような作品は智美さんから。スパイラルの動きが見る目をを作品の中へと引き込んでいきます。
Tomomi's work is just like a small sunny spot in a woods. The spiral movement draws your eyes into this design.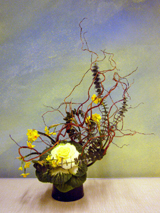 こちらは恵子さんの作品。柳の動きはダイナミックですが,作品全体は静かな安定感に満ちていますね。
This is Keiko's work. Although the shape of the design is quite dramatic and big, its overall impression is still quiet and peaceful.