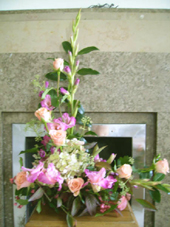 朝の教室から智美さんの作品をご紹介しましょう。ボリューム感のある華やかで安定感のある作品に仕上がっていますね。
From Hampstead Class, this is Tomomi's arrangement. Its visual impact is strong; bright and full. The arrangement has a good visual balance,too.
ブルームス教室から容子さん,裕季子さん,邦子さん、早苗さんのそれぞれの作品をご覧ください。
From Bloomsbury Class, Yoko, Yukiko, Kuniko and Sanae made this style arrangement.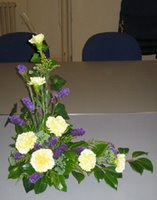 容子さんの作品は葉の特徴を生かした作品作りがなされています。椿の葉が美しく流れています。
Yoko paid careful attention to the shape of foliage really well here. Camellia's leaves look like as if they were actually growing in this arrangement.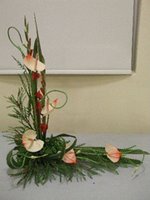 裕季子さんの作品は空間構成がうまく、少ない花材ながら華やかさを失っていません。
Yukiko created beautiful positive/negative space in this arranegemt. Even though there were not many material in it, the work still has not lost its appeal.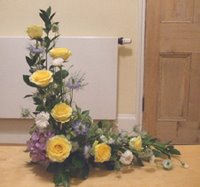 こちらは邦子さんの作品です。花材の組合わせ方にメリハリがあり、アレンジに深みをもたらしていますね。
Kuniko's choice/mixture of material here is superb; good contrast of texture and sizes provided the arrangement with visual depth.
ユリの表情を的確に捉えているのは、早苗さんの作品です。このスタイルならではのシャープさが出ています。
Sanae captured the expression of Lilium in this arrangement. With its strong structure, the work has a sophisticated sharpness.