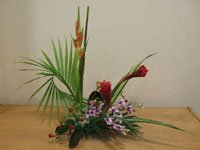 しばらく前になりますが,教室でライン/アレンジメントを取り上げました。写真をお預かりしていたのですが,なかなかこちらで御紹介する事が出来ずにいました。。。というわけで、ブルームスブリーの教室から、裕季子さんの作品をまずご紹介します。葉の使い方がとても印象的で、ヘリコニアやショウガの花に負けない存在感を醸しだしていますね。空間の開け方も巧みです。It has been a while since we made some Line Arrangements in the class. Yes, I know I was supposed to upload these photoes ages ago... Here we are, this is Yukiko's design from Bloomsbury Class. Her use of foliage, especially the palm leaf has its own statement here, and showing its beauty along with huge Heliconia and Ginger. The negative space in this work is also the key to its success.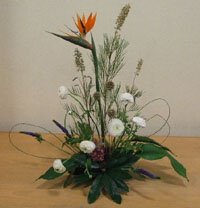 邦子さんの作品は、極楽鳥花を中心に据えています。そのはっきりとした線を囲みながら、舞うように咲いているのが白いラナンキュラス。浮遊間いっぱいの作品です。Kuniko has used a Birds-of-Paradise (Strelizia) in her arrangement. Around its sharp stem, there were some white Ranunculus dancing like some snow flakes. It looked like ithad its own gravity in this arrangement.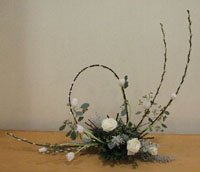 晃子さんは、この季節らしい柳を取り入れています。柳で大きな流れを作り、弧を描かせることで、フォーカルアリアを更に強調させています。動きがありながら,とても静謐な作品です。Akiko has adopted Salix in her arrangement. This dramatic line, created by Salix, showed off its forcal area in this arrangement by having an elegant loop around it. It is full of visual movement, yet, so quiet.