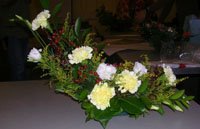 ブルームスブリーの教室から,クレセントアレンジメントのお届けです。イサーの作品は,まるで本当の三日月を思わせるような色合わせ。写真から解りにくいのが残念ですが、淡くとけるような春の月のようです。Crescent Arrangements are one of our modules, and here are some fine examples here from Bloomsbury Class. Ethaar made this dreamy design. Unfortunately, you cannot see the design that clear, however, it has beautiful colour scheme: just like a soft gentle crescent hanging in the Spring evening.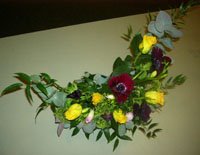 和子さんの作品では、しっかりと作り上げられたフォーカル・エリアが印象的です。深い色を持つアネモネと明るい黄色のバラが、滑らかな弧の上にアレンジされていますね。In Kazuko's design, yellow Rosa and bordeaux Anemone are creating a clear forcal area. Materials are arranged on a smooth crescent.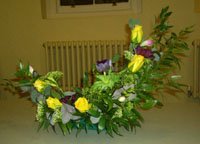 マリエさんの作品は、和子さんと花材を共有したものです。花材が同じでも,出来上がりの作品はこれほど違った印象になります。明確なクレセントを、丁寧に葉モノで作っていただいたのがわかりますね。Marie shared the material with Kazuko on the day, although the completed designs have such a different impression. Marie has created this beautiful crescent shape carefully with foliage, so flowers came naturally along with it.