ラウンドアレンジメントは、簡単に見えて実は案外奥が深いものです。アドバンス・クラスでは、植生的なスタイルのアレンジを作製します。
You might think it is easy to make a round arrangement, but, in fact, you would be surprised how much attention requires to create a good balanced design. In our Advanced Class, we are making Vegetative Round Arrangements.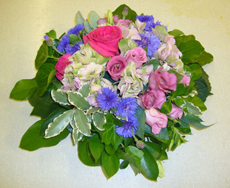 まずはハムステッドの教室を体験に見えた美穂さんの作品。やわらかな色のあじさいを取り入れた作品で、多くの種類の葉モノも素敵ですね。
This is from Miho, who came to Hampstead class while she was in London on her holiday. Her design has a subtle colour Hydrangea with several different kinds of foliage. A very sweet arrangement.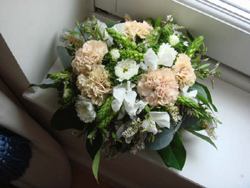 こちらは真代さんの作品です。一目惚れしたというミルクティー色のカーネーションをメインにおいて、大人のアレンジです。
This is Masayo's design. She chose those beautiful Carnations which she fellin love with at first sight. Very tender and quiet.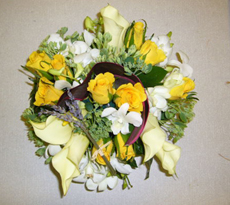 こちらはさと子さんの作品です。ポイントに使われているラベンダーの小さな束や、真ん中に潜むコルディラインにご注目ください。
Satoko's design has a few additional interests. Please check how sweet a small bunch of Lavender on the design, and a gorgeous cerise Cordyline fruticosa leaf sitting in its focal area.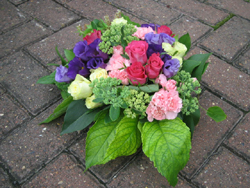 ブルームスブリーの教室から、こちらは容子さんの作品です。窓辺に飾られた寄せ鉢からインスピレーションを受けたと言う色合わせは、清潔感に溢れる鮮やかさです。
From Bloomsbury Class, this is Yoko's design. This clean and fresh colour scheme was an inspiration from a window container she saw and loved. It has a good balance, too.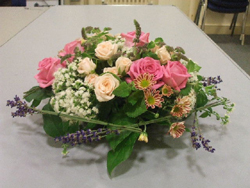 裕季子さんは、ラベンダーを使ってロマンティックな雰囲気を更に盛り上げています。花材の合わせ方も素敵ですね。
Yukiko has made this romantic design. A wide range of material, which was well chosen and mixed were surrounded by scented Lavender.