先月のワークショップでは、吸水性フォームを使用しないアレンジメントの作製でした。花の情報をみんなで交換し合い、製作中にも話は盛り上がりましたが、作品を作るまなざしは変わらず真剣。もちろん作業の手が止まる事はありませんでした。
The theme for Workshop in July was "without any use of water retaining foam." We all exchanged techniques and information on flowers, so, naturally, we had some good chat during the workshop, although everyone was so concentrating on their own designs! In fact, they never stopped developing their idea and designs.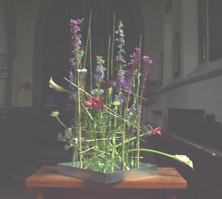 こちらはよしこさんの作品です。繊細さがありながらも,何か安定した風格のある作品に仕上がっていますね。
This is from Yoshiko. The design has such a delicate quality within, yet it shows boldness and stability through the material she chose.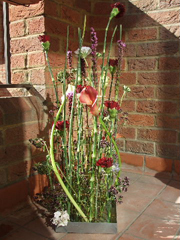 裕季子さんの作品は、植物の持つ、『立ち上がる』表情をしっかりとらえています。
Yukiko's design is capturing the expression of materials 'being growing up' very well here. You can see them so alive!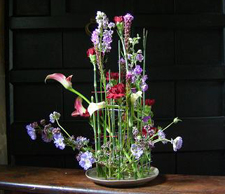 晃子さんは、お皿の大きさにとらわれる事なく左右へと花をあしらい、アレンジに広がり感を持たせています。
Akiko made her arrangement without being restricted by the size of her own dish. The materials are swinging from side to side, so you can visualise the landscape beyond its outline.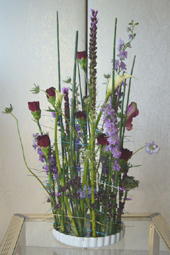 こちらは美穂さんの作品です。細かな蕾も丁寧に使われて、まるで庭の一部を切り取ったかのような、雰囲気のある作品に仕上がりました。
This is Miho's work. With some small buds, she has created a very natural design here. It looks as if it was cut off from a beautiful summer garden.