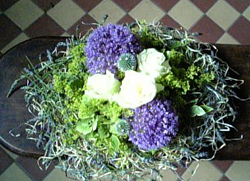 先日、三日間の集中レッスンにおいで頂いた聡子さんの作品です。ラベンダーをベースにあしらったラウンド型のアレンジメントが完成しました。
Here are the designs Satoko made the other day during her 3-days arrangement classes. This Round Arrangement has a base constructed with Lavender stems.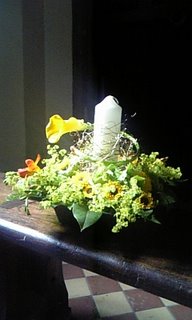 夏らしい景色を装ったキャンドルアレンジメントです。ガーデンパーティーに最適ですね。
This Candle Arrangement has very summery feel to it. An ideal design for a garden party.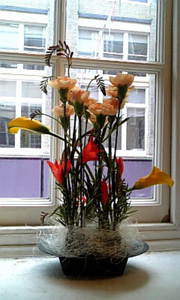 立ち姿の美しいアレンジです。燃え立つような花の力を、このアレンジの中に見る事が出来るのはないでしょうか?
It is a well-balanced standing arrangement. You can see strong power of flowers through this design,just like burning flame.
この後,ご家族の方のためにアレンジを作られるご予定だとか。聡子さん、是非結果を聞かせてくださいね。