アレンジの経験が全くないから心配です。。。クラスに初めて参加していただくほとんどの方が,こうおっしゃいます。ですから,最初は花を切るのも怖々だったりするのです。ところがどっこい,クラスを終わってみると、このような素敵な作品が目の前に出来上がっているんです。
Most people who have joined the Class have not had any experience of making flower arrangement before. So, it is not surprising that you feel quite nervous when you cut a flower stem for the first time. Although it might have been their first time, look! At the end of the class, they have made these lovely arrangements.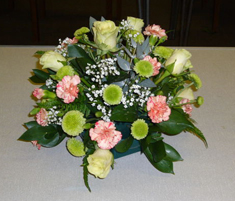 こちらはハムステッド教室から美絵さんの作品。かすみ草の咲き方も上品で、瑞々しく仕上がっています。
From Hampstead Class, this is Mie's design. The use of Gypsophilia was just right, so that the design kept its freshness.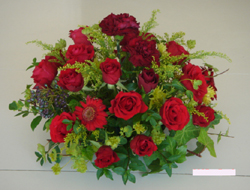 知子さんの作品では、深みのある緋の色を使いながら、質感の違いで人の目を引きつけます。
This is Tomoko's design. Scarlet is the obvious colour choice here, but Tomoko has created good visual interest through different texture.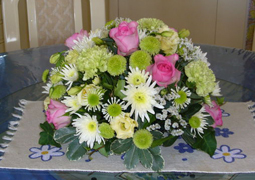 こちらの作品は恵子さんによるもの。スプレーキクを丁寧にアレンジし、美しいドームを作り上げられました。
This work is made by Keiko. This beautiful dome shape was the result of her careful arrangement of various spray Chrysanthemum.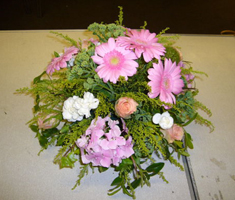 こちらは眞子さんの作品。ソリダゴはアレンジするのがなかなか難しい素材の1つなのですが、作品をつなぎ合わせる素材としてうまく用いていますね。
This is Mako's design. Solidago is a rather tricky material to use in an arrangement, however, Mako has used this material to fill the gap well, and to foam its shape even better.