イギリスでの花束はラウンド型が主流ですが、三方見の花束もやっぱり素敵ですよね。
Most of the Hand-Tied arrangements you would come across in London are domed posy shape. I think front-facing style has been long underrated.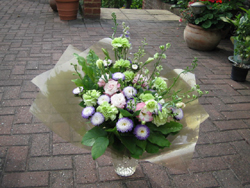 ブルームスリークラスから容子さんの作品です。パステルのアスターやトルコ桔梗にミントのカーネーションを合わせたクールな色合わせが、浮遊感を感じさせます。
From Bloomsbury class, here is Yoko's work. Pastel colour Callistephus chinensis and Eustoma are mixed with mint-coloured Dianthus standaard so that it delivers coolness and floating feeling.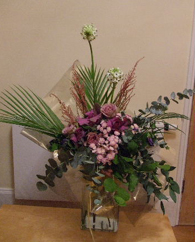 こちらは邦子さんの作品です。ピンクは甘くなりがちですが、この花束ではシブく落ち着きを持った色構成ですね。
This is Kuniko's work. Applying any pink to your arrangement tends to make it rather unexpectedly too sweet, however, with its right colour scheme, it has rather dark and almost smoky taste here.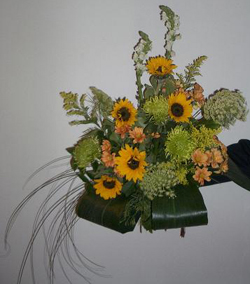 こちらは恵さんの花束です。夏の植物の持つ躍動感と生命力が詰まった作品です。
Megumi's work is full of vitality and energy from the material. It is packed with bursting life of Summer!