ベーシッククラスのとりを飾ってくれるのが,クレッセントスタイルです。皆さん、素材の持つ流れに心を配って活けてくださいました。
The last step of Basic Classes is Crescent Arrangememnt. Everyone paid good attention to their own material and its shape in order to create a beautiful crescent shape.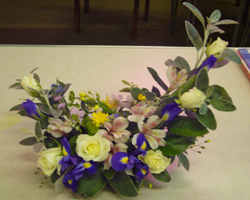 ハムステッド教室のの智美さんの作品です。少しスモーキーな色合いの素材に、レモンシャーベット色のバラを配して、軽やかさを出しています。
This design is from Tomomi in Hampstead Class. Lemon-Sorbet-coloured roses bring some lightness to this smoky colour themed design.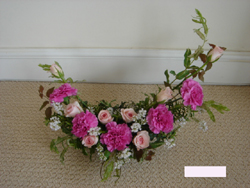 知子さんは、クリアーなピンクを正面から用いての作品作り。こぼれ落ちる白い小花も素敵です。
Tomoko has made this very 'pink' design. The small delicate flowers look as if they were dancing like some snow flakes o this design.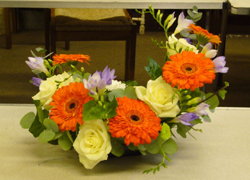 こちらは恵子さんの作品です。アレンジに安定感があり、見る人の気持ちをほっとさせてくれます。
This is from Keiko. The design has a good visual balance. Don't you find find happiness in this design? I do!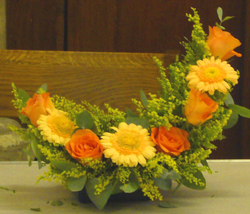 真代さんの作品には、美しい背骨があります。シンプルですが、見応えがありますね。
Masayo's crescent design has a beautiful 'spine'. It is s simple design, but it really is an eye catcher.