アドバンスクラスで作っていただいた、シャワースタイルのアレンジメントをご紹介します。このスタイルは様々な用途に応用が出来るのですが,目にするのが多いのはやっぱり結婚式での新郎新婦の席ではないでしょうか?
Here are some Shower Style Arrangements from Advance Class. This style can be applied to various designs, but, perhaps, the most popular position to be displayed be on a top table at wedding parties?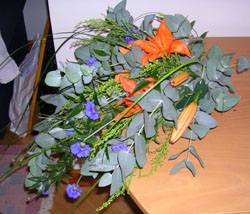 ブルームスブリーの教室からは、イサーの作品です。大きな作品に仕上がりましたが、作品の構成に安定感がありますね。
From Bloomsbury Class, this is Ethaar's design. She successfully created a substantial size out of a one-third piece of water retaining foam, yet, still maintained good balance in its composition.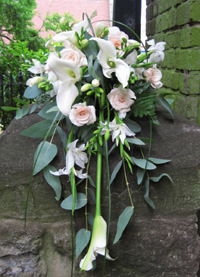 ハムステッドの教室からは、さと子さんの作品をご紹介します。エレガントで清潔感溢れる作品で、ウェディングの場にもピッタリではないでしょうか?
This is Satoko's design from Hampstead Class. It is a very elegant and clean design. It is easily transferred to any wedding occasion. Can't you visualise it??