春のウェディング・ワークショップでは、枝を用いてのブーケ作りを取り上げました。このワークショップからの作品をいくつかご紹介します。吸水性フォーム等は一切使用せず、ナチュラルステムで束ねられています。
On our Spring Workshop, we created some Wedding Bouquets with twigs. Here are some gorgeous designs from this Workshop. There was no water retaining foam in these designs: they have been tied with natural stems!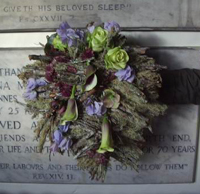 まずはよしこさんの作品。中に手を通す、マフ・ブーケです。洗練された、その美しく静かな質感に目を奪われてしまいます。
Yoshiko's work is a Muff-style bouquet. How sophisticated! What a dazzling yet quiet texture!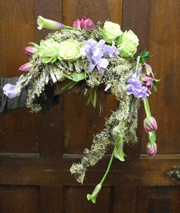 こちらのクレッセント・ブーケは、裕季子さんの作品です。ナチュラルながら、エレガントなスタイルです。
This Crescent Bouquet is created by Yukiko. It has natural, yet very elegant style.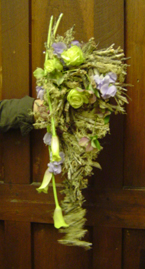 朋子さんは、カラーの流れを活かしたシャワー・ブーケを作製。甘さのない、大人の方にぴったりの作品ですね。
Tomoko has created this Shower style Bouquet, showing off the beauty of Zantedeschia. Nothing girlie here. This is for someone who knows own style.