花の教室でも、この7月から新しいシーズンが始まりました。各シーズンの最初のベーシッククラスでは、ラウンドアレンジを取り上げています。July 2007: A new season has began at LivingSeasons flower Arranging Classes. Round arrangement is the first design to make at the first class on Basic Classes.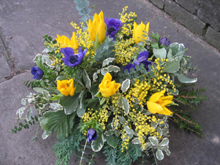 桂子さんの作品は、春らしい華やかさに溢れた作品です。ミモザがこぼれ出してくるようですね。
Keiko's design is full of Spring Sun! Acacia is bursting out like the sunshine.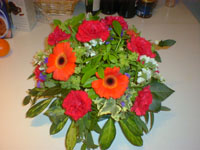 こちらは早苗さんのアレンジメント。力強くて深みのある作品です。
Sanae has made this visually strong, yet delicate arrangement, which maintained nuance within.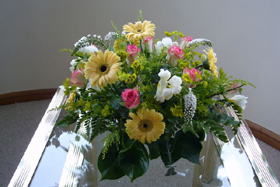 恵子さんの作品は、野の花を集めて来たような風情があります。
This work is from Keiko. How natural this arrangement is! It is just like an air of wild meadow.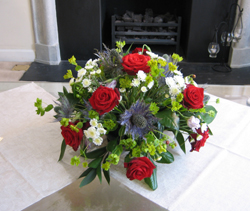 美紀さんは、使ってみたかったエリンジウムを用いた作品。いつもと違う組み合わせに挑戦です。
Miki has set her a new challenge: using Eryngium. And, as you can see, she successfully mix this within her design.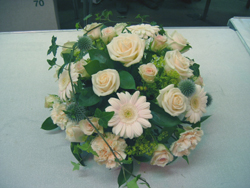 さと子さんは、アドバンスクラスの最後に再度ラウンドアレンジを作製してくれました。美しい色合わせとフォルム。少し垂らしたアイビーが素敵ですね。
Satoko has been on Advanced Class for a while, and on her 'Your Own Choice' day, she chose this Round Arrangement. The result was a marvelous one. Beautiful colour and form. This trailing Ivy ('Hedera helix') added even more depth to this work.