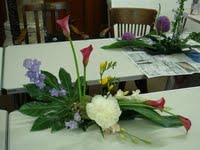 こちらは彩子さんの作品です。コンサートの受付に飾られる作品という事で,彩りも華やかな作品に仕上げられました。
This is Saiko's work for a concert reception. Its happy colour scheme suited the occasion well.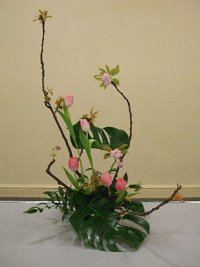 ユキコさんは、春らしい伸びやかな景色を構成されました。Yukiko has created this dreamy spring landscape. You can almost feel warm spring breeze!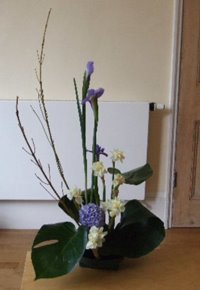 邦子さんの作品には、見る人の背筋を伸ばしてくれる、植物の力を感じます。
This is Kuniko's arrangement. There is something pure and independent about flowers in this work, I think.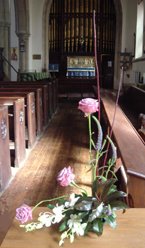 美絵さんの作品は、バラの茎を活かしたシンプルながら見応えのある構成です。
Mie's work is a very simple one, hence, the beauty of stems of roses are so clear here.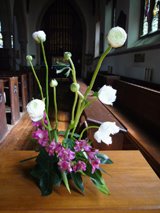 こちらは恵子さんの作品です。白いラナンキュラスの立ち上がり方が印象的です。
Keiko has arranged White Ranunculus as if they were talking to you: beautiful natural line there.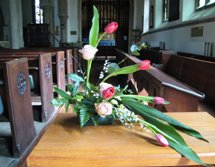 佳奈子さんの作品では、チューリップの持つ華やかさがよく活かされていますね。
Kanako' work here. The design maximises the charm of Tulipa!
こちらはヒロミさんの作品です。作品の構成がとても丁寧になされています。
Hiromi has created this thoroughly planned design: clean and elegant.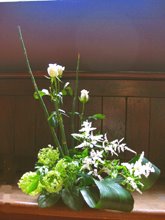 純子さんの作品では、各花材の持つ、それぞれのラインが活かされています。
Junko has paid good attention to each material and its line. The whole design is full of interesting line!