シャワースタイルの花束作りは、作業が大変なことに加えて、重い!でも出来上がりは、やっぱりエレガントで素敵ですよね。It is not easy to create Shower style Arrangement, so you can imagine how difficult to create the same style in Hand-Tied. Yes, it is hard, but, as you can see, they are worthwhile: elegant and beautiful!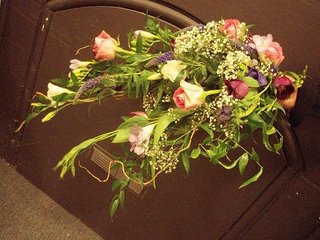 由未さんが束ねられた花束がこちらです。ウェディングにいかがでしょうか?流れの美しいこの花束は、いつもお世話になっている方へプレゼントされるとのことでした。Yumi designed this Hand-Tied, which would look so good on a wedding. This gorgeous design was a gift to her long-time mentor, and I am sure this design has brought lots of smile to someone.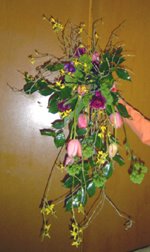 朋子さんの作品は、冬から春への生命の息吹を感じさせる和の美。和装で臨まれる結婚式に、ぴったりではないでしょうか?Tomoko has created this Hand-Tied. It captures the moment of transition: Winter to Spring, new life and its strength. How about having a Wedding Bouquet like this if you are wearing Kimono at your ceremony?
邦子さんんが束ねられた花束も、春の生命力であふれています。すっきりとまとめあげられたフォルムが素敵です。This is Kuniko's work. It is full of bursting energy of fresh Spring! Lovely neat profile, too.
恵子さんの作品がこちらです。この柔らかく溶けてしまいそうな色の組み合わせでのシャワースタイル。まさにウェディングに最適ですね。Keiko's design has a wonderfully soft colour combination. With this Shower style, this design would look great on a wedding day.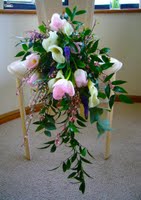 容子さんの作品です。花材の向き/位置をしっかりと見極めながら、大変丁寧に束ねられた作品です。流れ出るような動きが伝わってきますね。Yoko has designed this Hand-Tied. Each material was carefully chosen according to it shape and position here. You can almost hear its flow and movement in this design.