本来はとても古典的なデザインですが、クラスではもう少しモダンなアプローチで。。。
Originally, it is rather heavy classic shape, but in the class, our approach to this design is a little bit more modern....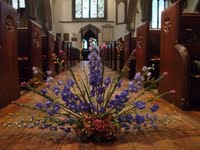 彩子さんのこちらの作品は,先日のフラワーフェスティバルにおいて出品されたものです。晩夏から初秋の雰囲気があふれた,非常に見栄えのする作品となっていますね。フェスティバルの当日には,教会の祭壇の正面を見事に飾っていただきました。
This is Saiko's design for Flower Festival 2010. It evokes a lovely sense of welcoming Autumn; very eye catching and beautiful. During the Flower Festival, it really attracted so many people's attention in front of the alter.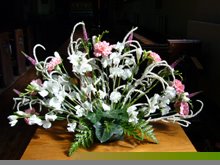 こちらは恵子さんの作品です。柔らかく融けるような色の組み合わせが効果的で、花材の持つ質感ともよくマッチしています。
Keiko has created this dreamy, soft frosty design. Its colour scheme matches visual texture very well.
桂子さんの作品は、大人っぽい落ち着いた色合わせです。作品自体はシンプルな構成ですが,それぞれの花材が効果的に使われていますね。This arrangement is from Keiko, who combines chic colours. The design looks simple, yet, Keiko maximises the beauty of each material here.