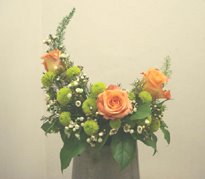 ブルームスブリーの教室から、順子さんのクレセントアレンジメントのご紹介です。大きなバラを受け止めるおおらかでふくよかなシェイプが印象的です。
From Bloomsbury class, this is Junko's work. The arrangement has a nice flowing shape big enough to hold those big orange Roses.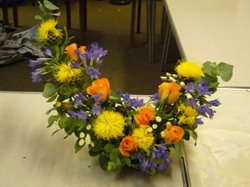 ハムステッドの教室からは、知子さんの作品です。多様な花材を用いて、テクスチャーの違いを印象づけていますね。This is Tomoko's arrangement from Hampstead class. Tomoko has mixed a variety of flower material so that the work has greater interest in texture.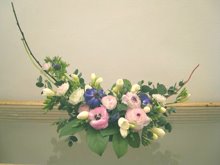 こちらは佳奈子さんの作品です。春を感じさせる花材に枝を組み合わせ、植物の伸び上がる勢いを感じさせます。
Kanako has created this neat arrangement with spring materials. These twigs provide the arrangement with a sense of spring growth.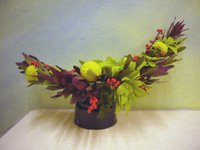 こちらの大作は真奈美さんの作品です。リューカデンドロンの葉の流れをしっかり見ながら大切に作り上げられています。
This rather a big arrangement is created by Manami. Its overall shape is carefully constructed with Leucadendron.