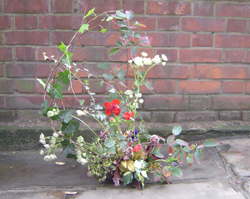 ハムステッドの教室から、朋子さんの作品をご紹介します。色づいたスモークツリーとアイビーで、大きく透明な空間を作り出されています。
From Hampstead Class, this is Y.Tomoko's design. The Cotinus has just started showing its autumm colour in this design. A smooth and sparkling space is created with this beautiful Cotinus and Ivy.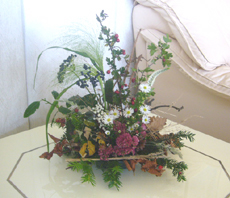 恵子さんは、初秋の野原の景色が目に浮かぶような作品を作られました。アレンジの足元までしっかりと見たくなる作品です。
K.Keiko brings you a sense of early autum field through her design. Keiko's has paid close attention to the very bottom of the design so that it draws your eyes to the every corner of the design.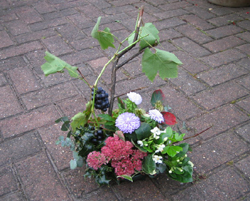 ブルームスブリーの教室からは容子さんの作品です。ご自分のお庭にある花材での構成です。きれいに色付いたセダムが見上げているのは,たわわになった本物の葡萄です。
This is Yoko's design from Bloomsbury Class. This work is really coming out of her own garden! Above the wintery Sedum, there is a real bunch of grape on a vine: a gorgeous garden creation.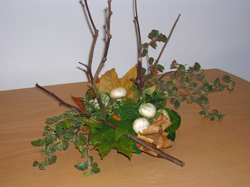 秋の森を彷彿とさせるのは,イサーの作品です。苔や湿った樹の皮のにおいが届く、心を落ち着かせてくれる作品です。
Ethaar created this quiet and rather mystic design. It is just like walking into a deep Autum forest, and gets caught by a smell of moss and damp bark. Tranquility is the word for this design.