弓形のアレンジメントは、その優美な形が人の目を引くデザインです。ちょっと贅沢にテーブルを彩りたいときには、最適ではないでしょうか?
It is such an elegant shape Bow Arrangements have! It is catchy, yet still elegant. How about creating your own design for your dinner table?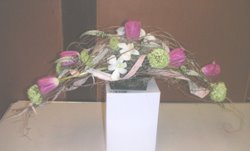 恵さんの作品は、フレームを取り入れたモダンなデザイン。色合わせといい、花の取り合わせといい、今の時代をよく捉えた作品になっていまね。Magumi has incoporated frame style into her her design. Its colour scheme, choice of flowers: the design has very strong contemporary feel to it.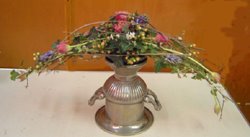 こちらの朋子さんのデザインもフレームを取り入れたものです。滑らかにのびるチューリップと、舞うように添えられたヒペリカムの実が好対照です。この作品、写真では解りにくいですがかなりの大作でした
This is another frame-style design created by Y.Tomoko's. Its flowing line of Tulipas and look-like-floating Hypericums are enhancing the shape well. It is hard to see from this photo, however, this design was really big!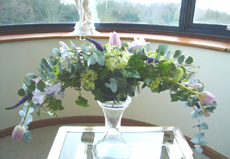 とけるような優しい色合わせで作られたのは、恵子さんです。花の色に合うように選んだユーカリの葉で、やわらかなアーチを描いています。K.Keiko has used this beautiful frosted colour scheme. The material, both flowers and foliage were carefully selected, and lovely arching shape was created with Eucalyptus.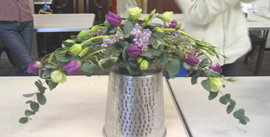 こちらの作品は聡子さんのものです。チューリップやライラックといった春を感じさせる花々をたっぷり使って、溢れ出るようなアレンジが完成です。
This is Satoko's design. Tulipas and Syringas have provided this design with gentle Spring feeling, and its shape has a wonderful flow tghrough the design, too.