先日のワークショップからの作品をご紹介させていただきます。やわらかな薫りを放つラベンダーとローズマリーを使ったフレームウェディングブーケの作製でした。ひっそりと咲いているのは,根っこを張っている小さな胡蝶蘭です。
I would like to share the beauty of the Wedding Bouquets made during the Workshop with you. Softly scented Lavandula angustifolia and fresh Rosmarinus officinalis are the ingredients of this frame work. Can you see this gorgeous small flowers in the frame? It is a rooted Phalaenopsis orchid.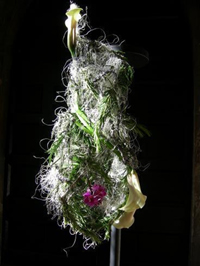 まずは晃子さんの作品です。透明感の溢れる作品に仕上がりました。ロンドンの透明な光をしっかりとうけていますね。
This is from Akiko. It has such a transparent quality. The clear London light is traveling through her bouquet, and showing it beauty.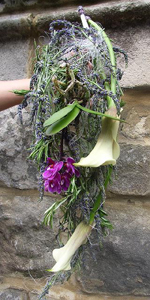 こちらは千春さんの作品です。植物の持つ力強さが表れていませんか?カラーの持つラインが印象的ですね。
This work is from Chiharu. There is a strong sense of affirmation in this design. It is Chiharu's ability to translate the power of material into a visible form.