リビングシーズンの花の教室からです。


ロンドンの花屋さんで花束を注文すると、ほとんどの場合ポージーと言う丸いドーム型のスタイルを作ってもらえます。このスタイルは確かにきれいなのですが、ラインの美しい花等にはあまり向かないのかもわかりませんね。せっかくの流れるようなラインを見せるのであれば、この三方見の花束が絶対におすすめ...というわけで、アドバンスの方々の作品のご紹介です。
When you order a Hand-Tied bouquet in a flower shop, they will create a lovely bunch of flowers in a posy style in most cases. There is nothing wrong in this style, however, it is hard to show the beauty of lines and movement in this style... Hence, we are making Front Facing Hand-Tied here in Advanced Class.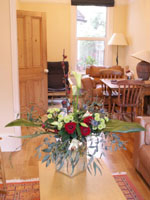 こちらの作品は邦子さんの最初の作品。葉っぱの動きが美しく
、花束の存在感を高めています。花の飾ってある冬の部屋は、気温が3℃暖かくなるような気がして、心の気温も3℃上がると昔読んだ事がありますが、まさにそんな花飾りですね
。
The top right photo is from Kuniko's first creation. You can see the beauty of movement and line in this bouquet. Once, I have read a book explaining that flowers in a room make the room feels 3 degree warmer, and your heart feels 3 degree warmer, too. The picture is just like the room I read before.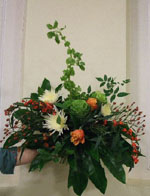 こちらの作品は邦子さんの2度目の作品。秋らしくバラの実物を入れる等、とても動きに満ちあふれています。
The next one is also from Kuniko, but this is her second creation. She enhances the movement in this bouquet by adding some autumnal Rose hips. Beautiful.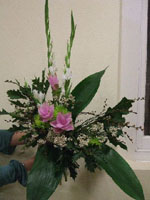 こちらの作品は裕季子さんによるもの。クルクマとグラジオラスをあしらい、とても軽やかに(実際にはとても重いのですが、、、)立体感をつけて仕上げられていますね。

This photo is from Yukiko. Curcuma and Gladiolus are so graphical and controlled well, yet the bouquet looks so light, even though it is really heavy! The bouquet's colour scheme delivers summer breeze to you.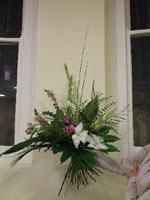 そしてこちらは早苗さんの作品。非常に大きく、多くの本数を使っていますが、スパイラルが乱れる事なく、美しく組上げられているのが、花束の足元をみていただければ解っていただけるのでは?ドラマティックな花束ですよね。
This Hand-tied is made by Sanae. You can see how patiently and carefully she assembled all those many stems into a bouquet: there is no single criss-cross. The result is the beautiful spiral mechanics, with a dramatic composition!