こちらは,同じラウンドアレンジでもちょっとスタイルの違うものです.ベジタティブというスタイルで,ちょっと大人な感じがするのではないでしょうか?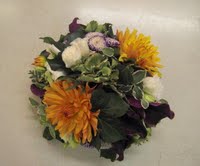 There are different style in Round Arangements - Traditonal style is not the only one! So, here we are, they are Vegetative style created at Hampstead Class.
こちらは恵さんの作品です。燃えるようなオレンジのダリアとそこに寄り添う紫のカラー.対照的な色と質感が印象的ですね。This is Megumi's design. Hot dahlias and cool Zantedeschia - they create such a strong visual impact!
こちらも恵さんの作品です。全作品とは打って変わって淡くとけるような配色.葉っぱの配色にも配慮されていますね。
This is also from Megumi.Such a contrast from her previous work: so cool and so soft. A good choice of foliage, too.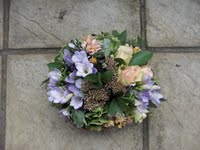 かわってこちらは,路子さんの作品です。ラウンドらしい美しい形ですね。花材のバランスも素敵です。
This is created by Michiko. A beautiful shape design! Combination of the material and their balance are superb.
こちらも路子さんの作品です。この薔薇と紫陽花の色の素敵な事!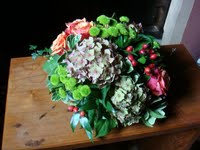 This one is also from Michiko. Look at the colour of Roses and Hydrangeas!