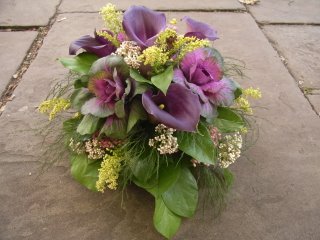 こちらの2作品は百合さんの作品です。最初のカラーを使った作品は大人の色香がありますね。二つ目の作品は、元気にあふれる夏の香りがします。
These two designs are both created by Yuri. The one with purple Zantedeschia has a real grown-up feel. The second design, on the contrary, has bursting summer energy.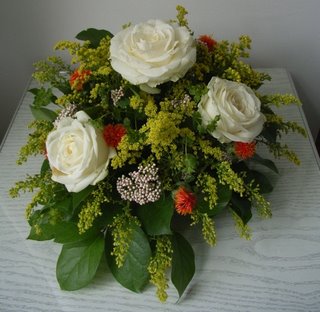 こちらは岸子さんの作品です。ブプレリュームとアリウムの色の対比によって、バラの白さが引き立てられていますね.
This is Kishiko's arrangement. The clour of Roses is enhanced really well by the delicious combination of Bupleurum and Alium.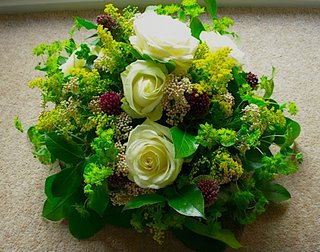 こちらは恵美子さんの作品です。優しい配色が心を休めてくれます。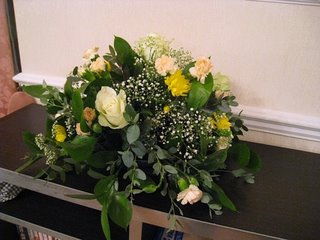 This is Emiko's design. Its soft gentle colour scheme gives restful feeling to any viewer.
こちらは由美さんの作品です。春の花畑と言った風情でしょうか.とても華がありますね。
This is Yumi's design. It is just like a happy spring flower field. Don't you feel HAPPY?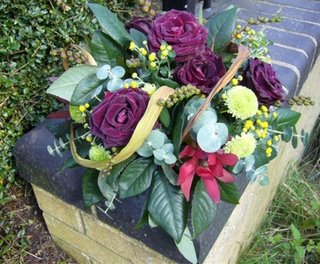 ミホさんの作品です。様々な葉ものを用いる事で、アーティスティックな作風に仕上げられています。
Miho uses a several kinds of foliage here. Its use of line and texture bring artistic quality to the design.
恵美子さんは白の花でまとめられています。少クリーム色のスターチスを合わせて、アレンジに深みを与えていますね。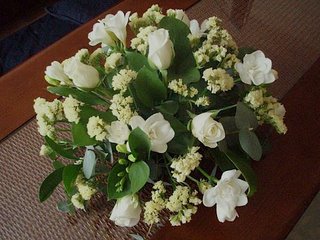 Emiko created this design with white flowers: but not entirely white. Limonium is off-white colour, which gives the design an extra depth.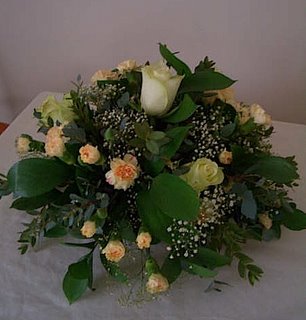 こちらは佐知子さんの作品です。かすみ草を上品にあしらわれていますね。
This is Sachiko's design. Subtle use of Gypsophilia enhances its beauty here.
ルミ子さんの作品は、花と葉ものの分量が絶妙で、見ている人を飽きさせません。
Rumiko kept a good balance between flowers and foliages here: you just keep admiring its beauty!